When traveling outside of your home country, it can be a struggle to find food this fits your dietary requirements. In my experience, some countries are easier than others. When I lived in Thailand almost every restaurant had at least vegetarian options and vegan restaurants were everywhere you looked. Countries like Japan are not quite so easy to find vegan options.
However, living in Sapporo means we are quite lucky. There is a variety of restaurants that we can go to and many of which are proper delicious.
Here are my three favorite restaurants in Sapporo that are either vegan or have vegan options.
The first one that I went to is called "Lohas." Since coming to Sapporo it was my first vegan food and I was overly excited to give it a try. The menu is jam packed with delicious choices, but I went for the sample plate. This way I got to try a variety of dishes and didn't have to decide for myself.
Fun fact about the "sushi:" Beyond not having fish, the rice is actually made from a variety of nuts, making it that much more delicious and healthy.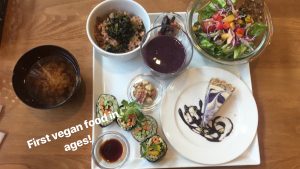 My second recommendation is Holistic Bio Cafe: Veggy Way. Located in the trendy Maruyama neighborhood of Sapporo, this restaurant is more than worth it. If you're the type to want realistic, fake meat, I fully recommend the teriyaki chicken bowl. The chicken was realistic enough that I doubted it to be vegan. Not the type to want to be reminded of meat? There is a plethora of options that can satisfy you. Plus they have a regularly changing specialty food, in which you get one large plates of food and several smaller dishes to try out.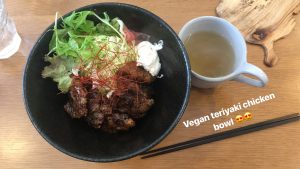 Finally, TERRA Farm to Table is my last suggestion. I will note, this one is not completely vegan. There are meat options on this menu, but the different choices are clearly labeled. The best part of this particular restaurant is the all you can eat salad bar. After choosing your main meal, you then gain access to the salad bar. A variety of build your own salads as well as pre-made salads are free for you to choose from. There are also a few drink choices, such as coffee and flavored waters for you to choose from. Even though this restaurant has the smallest vegan menu of the three, the salad bar more than makes up for it. Plus, it is in an incredibly stylish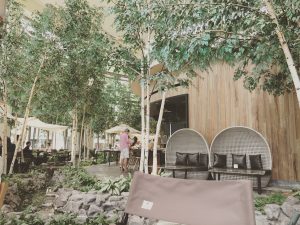 If you're not satisfied with any of those three, or are here for longer and want to try even more, check out this website: Vegewel.com/en/prefstate/1/
Full of different places with vegan menus or options, make sure to check out the times before you head over. Many of these restaurants are open for only lunch.
Find a new vegan restaurant or a place with vegan choices? Let me know! I'm always wanting to try more food.