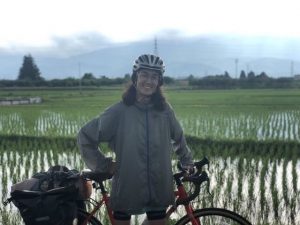 My name is Tristan and I am from Los Angeles, California.
I stopped at the Waya Guesthouse in the summer of 2018. My friend Mikey and I 
were on a bike tour from Tokyo to Hokkaido and were looking for a place to 
rest on the last legs of our trip. It took us around 2 weeks to reach Sapporo
and the voyage had exhausted us thourougly. 
The people at Waya were welcoming and friendly. I remember chatting in the bar downstairs, sharing stories with Keisuke & other travelers we had met. 
Currently I'm working in L.A. for a games studio while planning my next trip. I hope to come back to Waya one day.