Japan is consistently ranked as one of the most safe countries in the world. Lost items are often being returned to their owners. Men and women can walk around at night without fear of anything happening to them. You can even find people taking naps in a lot of unique spots around Japan. As someone coming from America, a lot of those are unfathomable to me to do in America, but in Japan they're common place.
However, Japan does have natural disasters, which can be frightening if you don't know what to do. Japan is currently entering typhoon season and earthquakes are always a possibility.
So here are some tips on what you can do in case of such a disaster!
The first thing you should know are the phone numbers that you can call!
In case of injury, sudden illness, and fires call 119!
In case of traffic accidents and crimes call 110!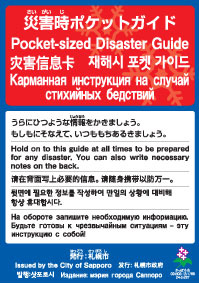 Try to find one of these pocket guides! We have them at our guest house if you would like to grab one. They have helpful information on what to do in case of a disaster in Sapporo.
One of the more important bits of information that is provided is the location of multilingual disaster support. It is the Sapporo International Communication Plaza. In general, many elementary and junior high schools, as well as parks, will serve as evacuation shelters. They provide safety, food, and water.
Really don't know where to go? Come to us and we'll help as much as we can!
Some general tips to stay safe in case of a typhoon:
-Keep indoors! The wind and rain can be quite strong, best to stay safe and be inside
-Avoid rivers, large drains, and beaches in case of floods
-If winds are very extreme, stay away from windows, or at least close the curtains in case of shattering glass
-Keep water with you! If you can have a basic medical kit as well
Some general tips to stay safe in case of a earthquake:
-If you're indoors when the earthquake happens, stay indoors
-Try to find a sturdy piece of furniture to hide beneath, or a door frame! If you can, try to protect your head with a pillow or bag.
-If you're outside when the earthquake happens, try to find an open space! You don't want to be under or near something that could fall on you
-When in doubt, do like the locals! Japan is very used to earthquakes and have training for them from a young age. They'll know what to do, so even if you don't speak Japanese, follow them!
Although probably no problem on your trip to Japan, it's best to know what to do in case something does happen!