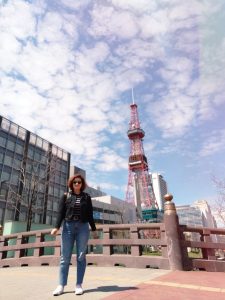 Hola!
I'm Paulina from Chile, currently living in Taiwan and using any free time I have to explore this lovely island and beyond. Last time I felt like embarking on a new adventure I landed in Sapporo during cherry blossom season.
Since I was traveling solo I thought of staying in a hostel to mingle with other people and after reading tons of reviews I decided on Waya's.
Best decision ever!
It was my first time visiting the north of Japan and I completely fell for it. The natural beauty of Hokkaido along with their fantastic lively people are really engrained in my memory. Experiencing cherry blossom season in Japan is something I will never forget.
I must admit staying at Waya's was another reason why I enjoyed this experience so much. Even though I traveled alone, I never felt lonely. Waya Guesthouse organizes a lot of different activities for the travelers to get in touch with local culture and local people. Their staff is amazingly helpful and warm. Staying at Waya's has a familiarity to it, as soon as you set foot in it, you don't feel like a stranger, but a part of wonderful family.
If you are ever visiting Sapporo this is the place and I will definitely be coming back
Instagram: @pauli_land