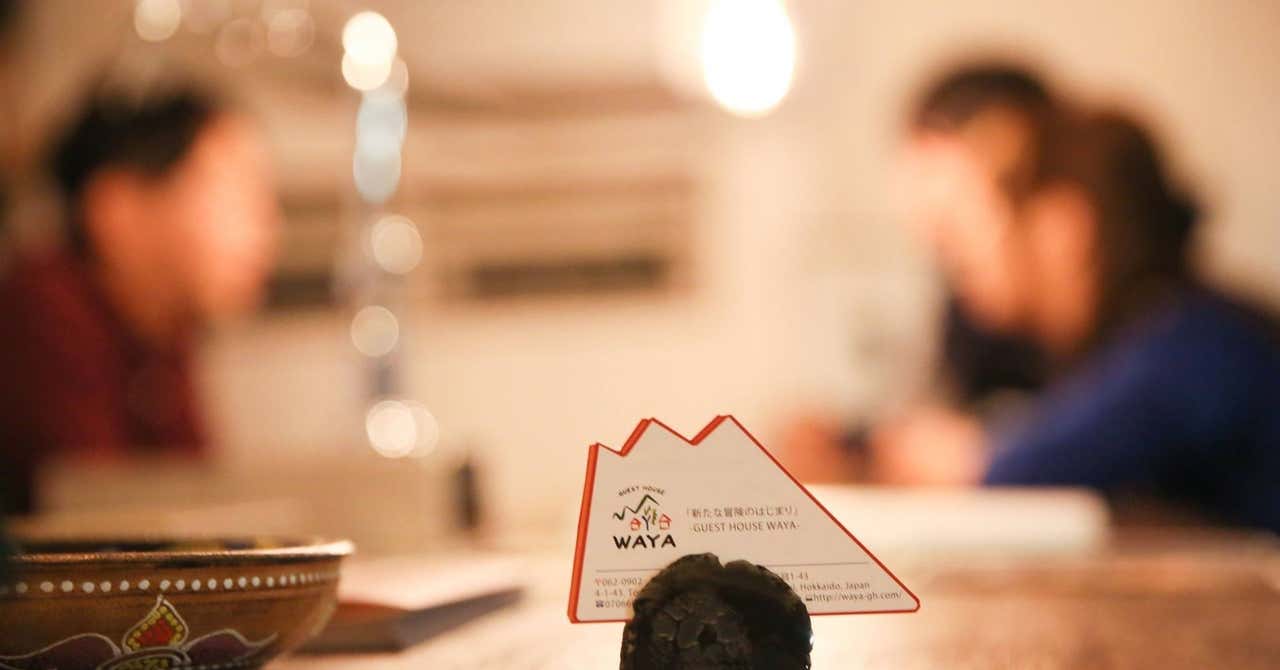 6月オンライン宿泊スケジュール
7日(日) 19:30-21:30(募集中)
11日(木) 19:30-21:30(募集中)
14日(日) 19:30-21:30(募集中)
17日(水) 19:30-21:30
22日(月) 19:30-21:30
27日(土) 19:30-21:30
30日(火) 19:30-21:30

申込方法
各会先着6名までとなっておりますので、ご希望の方は件名に「〇〇(名前)、◯月◯日オンライン宿泊希望」と書いていただき、 "waya.guesthouse@gmail.com"までご連絡ください。
オンライン宿泊って何?
Zoomを用いてオンライン上でwayaに皆さんをご招待します。
私たちスタッフや他のゲストと一緒に、ゲストハウスの空間を楽しんでいるかのような体験をオンライン上で作り上げます。
<オンライン宿泊体験の流れ>
①事前にGoogleフォームに必要事項を記入していただきます。
②オンライン上でチェックインを行います。(zoomを通してwayaをご案内します。)
③Google mapを活用して、wayaの近く、札幌近郊で皆さんが訪れるべき場所のご案内をします。
④Google mapを活用して、皆さんがいる場所へも飛んでいきます。
⑤ラウンジスペースでの時間を楽しみましょう。
費用
1,000円
*この費用には、次回wayaに宿泊していただく時に提供する、ウェルカムドリンク代も入っております。未来に会う、そして乾杯する約束をしましょう。
Guest House waya スタッフ一同
オンライン宿泊のスタッフ体験記もご覧ください!
https://note.com/memorandumoflife/n/n8bb225e5cf57?fbclid=IwAR1vG5M7CUqhblTMet4MiSz7Veb6rb5Coa1tDn4zuLlMEtfEdCa3WzFPUQM
Schedule
7日(Sun) 19:30-21:30(Open reservations)
11日(THu) 19:30-21:30(Open reservations)
14日(Sun) 19:30-21:30(Open reservations)
17日(Wed) 19:30-21:30
22日(Mon) 19:30-21:30
27日(Sat) 19:30-21:30
30日(Tue) 19:30-21:30
Application
Please contact us through "waya.guesthouse@gmail.com" with your name and the message of "Virtual Waya Hostel"  and the date you would like to join as the subject if you would like to stay with us.
What is "Virtual Waya Hostel"?
We will use "zoom" and invite you to Virtual Waya Hostel.
We will give you an experience as if you were staying at Waya Hostel and can enjoy our lounge space with other guests and staff.
The flow of experience "Virtual Waya Hostel"
①We will send you a Google Form to fill out before you join.
②In traditional Waya Style, we will start with a check in (We will introduce Waya Hostel thorough zoom)
③We will introduce you to places you should visit in our neighbourhood, as well as in and around Sapporo using Google maps
④Using Google Maps, we will "jump" to where you are
⑤Let's enjoy time together in our lounge space.
Cost
1,000 JPY
*Included is a discount ticket for your welcome drink next time you come visit us. Let's make a promise to meet up and drink together someday in the near future.
From Guest House waya staff