[Notice of BAR business in November]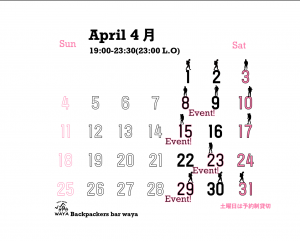 It is the business day of waya bar in November.Open every Thursday, Friday and Saturday for 4 days only.
Business hours are 19: 00-23: 30 (23:00 LO).
8th (Thursday) is Game night!Let's get excited with nostalgic games such as Nintendo 64 and Super Nintendo!
English conversation at Waya on the 15th (Thursday)!Let's play the game in English!
English conversation at Waya on Friday, 23rd!Let's play the game in English!
29th (Thursday) waya music night ♩-Let's enjoy music together at waya bar-
Event detailsClick here for details
[Notes / requests when visiting the store]
[Countermeasures against new coronavirus]
・ Please refrain from visiting the store if you are not in good physical condition.
・ The instruments used will be sterilized with alcohol as appropriate.
・ A thermometer and alcohol disinfection are installed at the entrance of the bar.
・ The organizer will limit the number of participants when holding events so that it will not be too crowded.
⭐️ Thursday / Friday / Saturday 19: 00-23: 30 (23:00 LO) ⭐️
🍺 Can be reserved for non-business days 🍺
How to use and usage feeClick here for details