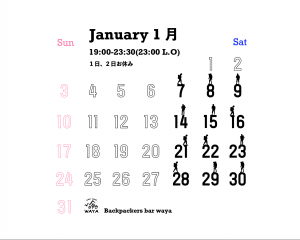 Happy new year, thank you again this year!
It is the business day of waya bar in November.Open every Thursday, Friday and Saturday for 1 days only.
Business hours are 19: 00-23: 30 (23:00 LO).
So far, there are no events.It may be changed at a later date.
Event detailshere
[Notes / requests when visiting the store]
[Countermeasures against new coronavirus]
・ Please refrain from visiting the store if you are not in good physical condition.
・ The instruments used will be sterilized with alcohol as appropriate.
・ A thermometer and alcohol disinfection are installed at the entrance of the bar.
・ The organizer will limit the number of participants when holding events so that it will not be too crowded.
⭐️ Thursday / Friday / Saturday 19: 00-23: 30 (23:00 LO) ⭐️
🍺 Can be reserved for non-business days 🍺
How to use and usage feehere