Nice to meet you.
Greetings have been delayed
My name is Hiroe Nanao and I have been a staff member of waya since March.
Originally from Hakodate City, Hokkaido, after spending five years in Kanto, including university and employment, I returned to Sapporo at the same time as the three members, and I am currently working in this way.
This time, I would like to talk a little about why I started working at waya and the days since I actually started working.
As mentioned earlier, I once left Hokkaido and lived in Yokohama and Tokyo.
Life in Kanto was often new and exciting every day.
After finishing my job hunting, I worked in Tokyo as an office worker, but when I thought about my own way of life and way of life, I got the feeling that I wanted to have one of my own skills, and I said, "Open a shop by myself." I came to have the goal of "I want to".Also, if I wanted to make that happen, I came to think that I would like to live and practice in Hokkaido where I was born and raised.
With that in mind, I started activities to return to Hokkaido, and at that time I met three members who were introduced by people.
Fortunately, I was able to return to Hokkaido at the same time as them and started to be involved in their "guest house renovation".
As I helped with the renovation on a weekly basis, I met many people and increased the number of important friends.
The result is "waya".
At first, I never thought it would be such an important place for me.
When I noticed, I went to waya and it was the most fun time.
The friends I met during this renovation are still irreplaceable friends.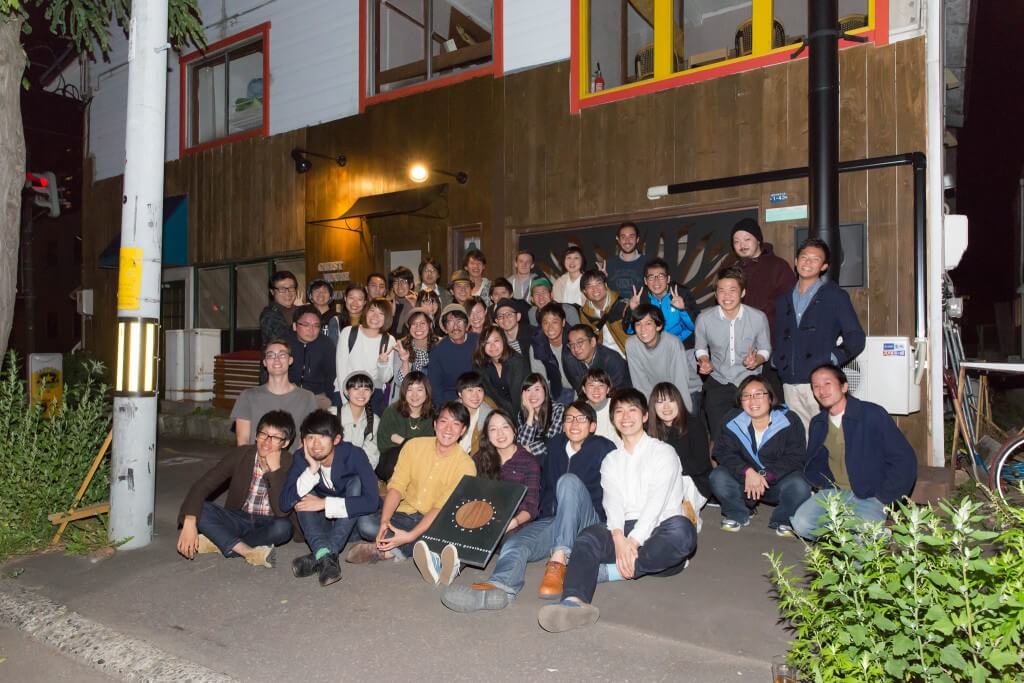 Meanwhile, I was invited to work together.
I want to create a place that creates a good time for someone, as I have experienced.
If I want to open a store myself in the future, I want to create such a space.
Above all, I thought it would be interesting to work with them, so I decided to work with them.
It's been a month since I actually started working as a formal staff member.
The day starts with cleaning the inn.Clean the inn with helpers from various locations and prepare for the arrival of guests.
And at night, the BAR on the first floor will open.In addition to the guests, it will be a place for exchanges with friends and helpers who have been involved in waya.
Most of the guests are from abroad.
Some people have come to Japan for the first time, and many have come to Hokkaido for the first time.
Every day is the same for us, but it's a special time for our guests.
Helping guests to travel comfortably can be casual conversations or a little care.
Until now, I haven't had the opportunity to interact with people from overseas, so I'm frustrated by the language barrier, but every day I gradually ask, "What can I do for the guests and for the people involved in waya?" I have more time to think about it, and I feel that I am working at a guest house.
By the way, breakfast will be back from April.I have also worked in a cafe, so I serve coffee for breakfast.For the purpose of coffee that I brew, I hope that people will gather at waya and various people will be connected.Also, as a new attempt, I am brewing coffee when I work at the bar to enhance the bar at night.I will think about it every day so that I can spend more time on waya.
I look forward to working with you all!
Nanao