All-you-can-ride bus x hot spring bathing ticket
Nice to meet you, this is "Nono" who has been working as a part-time job at WAYA since last month!
I think it will appear on the blog from now on!Thank you
Here are some recommended spots and recommended tours for those who want to take a day trip from Sapporo to experience the nature of Hokkaido.
This time, I went with Eve, a WAYA staff member !!
The recommended spots this time are Hoheikyo Onsen and Jozankei!
You can go by bus from Sapporo Station without changing trains !!
Therefore, we recommend a set ticket for Hoheikyo Onsen and an all-you-can-ride bus.
(Can be purchased at Sapporo Station)
The hot springs and unlimited rides are included for 2200 yen, so you can easily drop in at the nearby Jozankei !!
If you go in mid-October, you can see the mountains that you can see all over the area where the autumn leaves have begun to change color!
And the delicious air that passes through your nose when you get off the bus is also attractive!
You can easily go here in just over an hour one way, and you can see the autumn leaves !!
It's located far from the town, so it's recommended for people who don't like crowds !! (By the way, Indian curry shops in Hoheikyo Onsen were lined up on Saturdays and Sundays)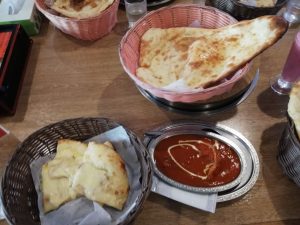 It takes about 20 minutes on foot from Hoheikyo to reach the hot spring town of Jozankei, so be sure to check it out !!
It feels good to see the autumn leaves when you walk.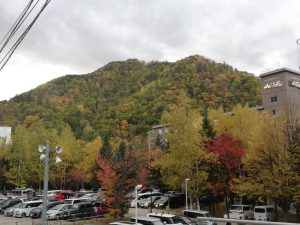 You can also go by bus
(This ticket is an unlimited ride ticket, so please use it !! Also, since the number of buses is small, it is recommended to check in advance.)
By the way, if you eat lunch → enter the hot spring → go to Jozankei, it will be dusk !!
Immediately after seeing the colors of the autumn leaves and taking a picture, it gets dark and you can enjoy the illuminated midfoot bath outside (it's free, but you should bring a towel to wipe your feet).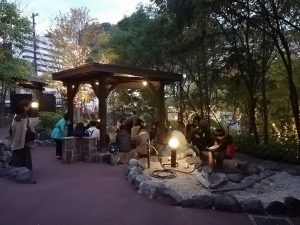 There are many bus stops in Jozankei, so if you want to go home while taking a walk, you can go to Sapporo Station from a nearby bus stop !!
We will arrive at Sapporo Station just around the time of dinner !!
Autumn leaves in Hokkaido that you can still enjoy for a long time like this
Please go!