Hello.
Currently, "September Exhibition of Picture Books" by Natsumi Miki (natte) is being held in the Shared Lounge space on the 1st floor of waya.
We are exhibiting many paintings.
You can also see postcards, canvas paintings, and other works that waya has drawn so far.
At night, the Shared Lounge is free to bring in, and it is a space where locals and guests can interact together.
When you come to see the work, it might be a good idea to enjoy interacting with everyone in the Shared Lounge.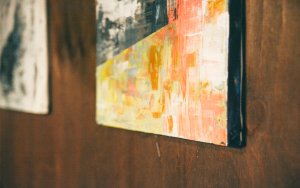 (XNUMX works drawn on canvas)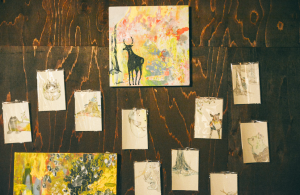 (There are also postcard works.)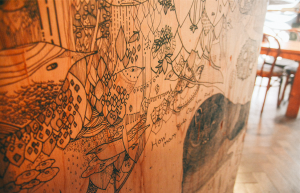 (Previously, a pen drawing drawn next to the reception)
The following is an introductory text.
I loved to imagine the world of picture books that my grandmother always read, and wanted to live in the world of poetry and stories.
It is said that the beginning of picture books was the Heian period picture scrolls in Japan and the 16th century Reformation in the West.It continues to be drawn in various eras in various lands around the world as a means and pictorial book to tell various stories such as myths, religions, feelings in life, and messages to society.
Modern manga, anime, novels, and photo essays can also be called picture books.Some picture books have no words, while others explain science rather than stories.What I want to convey in words, what I can't convey well, what I really want to say, and what I don't want to say.
In the September exhibition of picture books, the world of the story is scattered while changing the emotions that are not usually good for words, the fragments of memory that flow in the heart, and the things that are before thinking into colors and lines. I made a picture.I would be happy if you could imagine the fragments of the story that flow in the time in the picture.
"Picture Book Moon Tour Exhibition"
Online store of postcard original drawings ▼
https://www.creema.jp/c/chagumogu
– Profile –
Natsumi Miki (natte)
Born in Asahikawa, Hokkaido.Graduated from Sapporo School of the Arts, Industrial Design Department, Architecture Course.I am in the painting, design and writing business.
Ever since I was a child, I've been painting and grew up surrounded by music, watching snow and ice crystals, the colors of clouds and the sky, trees, small flowers and stray cats.
While drawing, designing, and writing, not forgetting to think that mysterious things are mysterious, and not letting out what you cannot see or understand. I live every day.
Portfolio ▼
https://www.sozoography.com/
Instagram ▼
https://www.instagram.com/natsumi.nike/