Hey guys!
Eve here ~
Hello.
This is Eve from the staff!
July is over, but summer is still going strong in Hokkaido! As a place known for its strong winter, you might be unaware of all the things you can do in the summer. However, there is a plethora of things you can do here during the summer.
July is over, but summer is just around the corner!The most popular season in Hokkaido is winter, so the fun of summer is probably not well known.But there are many things to enjoy!
SCUBA Diving!
Although you would probably never think of scuba diving in the cold of Hokkaido, there are actually many places where you can partake! My personal recommendation is Shakotan, near Otaru! The water there has great visibility and you are sure to see some interesting creatures.
There is no image of scuba diving in Hokkaido, but in fact you can experience scuba in various places.My recommendation is the Shakotan area!
Because the seawater is beautiful, you can see it far in the sea and there are many interesting creatures.
Surf!
Another sport you perhaps did not expect, Hokkaido has quite the surfing culture. Come speak with our in house surfer, Keisuke, to learn more about the best places and some general tips!
Another marine activity is surfing!Hokkaido also has a surf culture. Come to Waya and talk to Surf Keisuke to find out about the best places in Hokkaido and other information!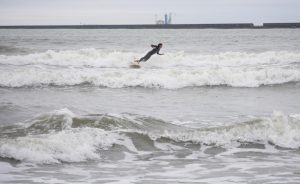 Hiking!
There are pretty much unlimited choices for where you can hike around Sapporo. For an incredibly popular, and not so difficult hike, check out Mount Moiwa. Nopporo Nature Park is also quite close-by for an easier level hike. If you're looking for something slightly more challenging, check out Shioya Maruyama in nearby Otaru. You'll get awarded with amazing views when you reach the top.
There are many places to climb mountains near Sapporo!Mt. Moiwa is easy to reach!Nopporo Forest Park is also nearby, making it an easy hiking spot. (Recently, there is brown bear information, so be careful.)
For those who want to try a little more difficult mountain, Shioya Maruyama in the Otaru area is recommended.
You can see a very beautiful view!
Play in a river!
The water is nice and warm, perfect for splashing about and having a relaxing day. The Fukui neighborhood of Sapporo has some gorgeous rivers, parks, and even waterfalls for you to enjoy.
Now, the water temperature in Hokkaido is just right for playing in the water!The river can be walked, played and relaxed in the sunlight.There are really beautiful rivers, parks and waterfalls in Fukui near Sapporo!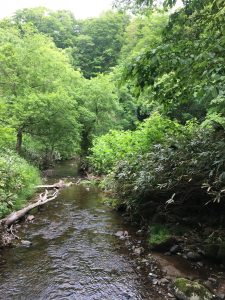 Ride a horse!
There are various places you can ride horses all over Hokkaido. My personal recommendation is to ride at "Arabian Horse Plantation" in Hidaka Cho! Any level can ride, from beginners to experts. The best part? It's not a trail ride! Based on Your experience, the guides will choose a unique path for you, as well as allow you to pick your speed. Groups are very small. Not so much a rider? Contact them to just play with the horses in the mountains!
There are many places to ride horses in Hokkaido!Eve's recommendation?To the Rabian Horse Plantation in Hidaka Town!Anyone can ride all levels here!Every time I talk to the person in charge, I can go to my own course, and my speed is okay!If you don't like riding, you can just play!
Picnic!
Sapporo, and really all of Hokkaido, is full of wonderful parks! From Odori Park and Nakajima Park in the middle of Sapporo to more "unconventional" locations such as Hokkaido University! No matter what, these are sure places to enjoy a bento!
There are many parks not only in Sapporo but throughout Hokkaido!In central Sapporo, Odori Park, Nakajima Park, and Hokkaido University are really good picnic places!Eat your lunch and have fun everywhere!