Hello!
This is Keisuke from the staff.
I came to Shimokawa the other day!
I took a walk in the woods there, but for the first time in my life I saw bear claw marks! !! !!
I was horrified that I was here, but I was impressed by the large scratches.
I encountered two claw marks in two days and one night.
In other words ...
Because it is very likely that you will encounter a bear
Everyone, when you enter the forest in Hokkaido, let's play after taking safety measures.
This time it was guided by a guide, so I was able to play safely!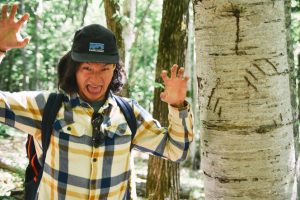 Hi!
I'm Keisuke.
I went to SHIMOKAWA town last week.
I saw a big nail mark twice.
It was so exciting !!
If you walk in the forest, you have to pay attention to bear.
You need spray and bell when you walk.
Enjoy HOKKAIDO !!