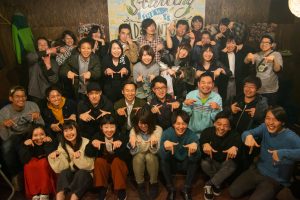 Title "I want to expand my favorite circle with my favorite friends in my favorite Hokkaido."
~ Our challenges, setbacks, changes and hopes that started in Hakodate and Yunokawa ~
April 2019, 4 (Tuesday) A guesthouse x music bar x share house complex that connects with sound and colors your trip.Tune Hakodate Hostel & Music BalHeld an event at Guest House Waya.
At this event, many people who were interested in keywords such as "Hokkaido," "guest house," "region," "region," "community," and "town revitalization" gathered.
Most of the founding members of Tune have moved to Hakodate from Sapporo, and all are in their 20s.It is a guest house that started from a challenge among strangers in a strange land.
More than a year has passed since it opened, and how will Tune, Hakodate, and Yunokawa change, and how will it change from then on?
At this event, we looked at Tune along the time axis of the past, present, and future.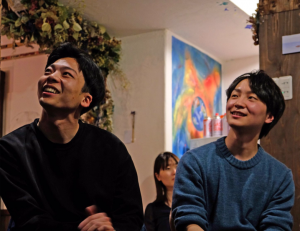 ◯ Introduction of event speakers
・ Mr. Soichiro Yamaguchi (Ryuitiro Yamaguti) Tune Hakodate
Hostel & MusicBal Bar Manager (Photo: Left) Currently 27 years old.After working as a freelance designer focusing on branding by web and graphic designers, he entered the launch of Tune.
・ Mr. Yuto Kasuya Red Horse Trust Co., Ltd. ・ General Manager of Accommodation Division (Photo: Right) Currently 27 years old. Going to Working Holiday at the age of 20.After returning to Japan, he established a limited liability company and launched "Wagayado Hare -Hale-" and "Tune Hakodate Hostel & Music Bal".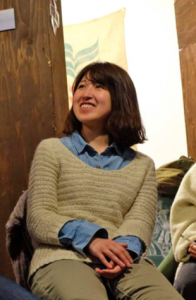 ・ Natte (Natsumi Miki) Individual business owner, artist, branding consultant, freelance painter, etc.
Activities.In charge of Tune's mural painting as an artist helper.
<Facilitator>
・ Rio (Ryohei Shibata) Co-representative of Staylink, a limited liability company
Operates a total of 4 guesthouses, 1 in Sapporo, Hokkaido and 5 in Otaru. Under the mission of the company, "Aiming for a society where people can be produced and dreams can be realized through the place," we are enthusiastic about creating a meaningful place.
✴ What is Tune?
Tune is more than just a guesthouse. It is a 1-story complex with a music bar on the 2,3st floor, a guest house with 82 floors on the 4nd and 10rd floors, and a 4-room share house on the 2017th floor. Kura in XNUMX
With a lot of support from Udo Funding, we started to move with the support of many people, and opened in Yukawa, Hakodate on March 2018, 3!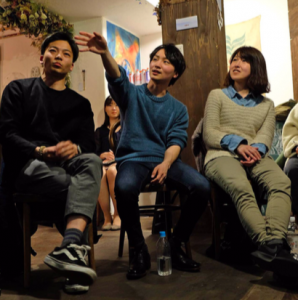 ✴ Looking back on Tune's year
First in the event, about a year of Tune before the opening through a lot of photos
Look back with the participants.

Tune was completed and started in 3 to 4 months with the cooperation of vendors including DIY!
Tune suddenly appeared in Hakodate and Yunokawa. "To get to know Tune, to get to know Hakodate』It seems that he goes to various places and acts even before going to work.Many photos and words convey how Tune spreads by meeting and connecting with many people.
In addition, Tune has held events every day so far.Regardless of the genre, it's really full.
Because we make daily events a must, "sometimes event holidays" and even holidays have become events.
In this way, a place of residence that was not available in Hakodate and Yunokawa was created, and it seems that the guesthouse started as a guesthouse rooted in the area and involving a wide range of generations in their teens and 10s.
✴ Is Yukawa required? Why was Tune created in Yukawa?
When I want to build a guesthouse, the first question comes up where to build it.Of course, I want to build it wherever I like, and I think it needs to be a place where many guests can easily visit.Mr. Kasuya shared his thoughts before the opening of Tune, which dispelled my doubts.
A guest house is a business with properties, and at first he didn't have the desire to change Hakodate!After finding the property and actually visiting Hakodate and Yunokawa, I was moved and felt "I want to do it here!", And Tune was completed.What I found attractive was the large number of things that were missing.Although Yukawa is a hot spring town, there were some broken glass on the road and some parts of the road that were not completed as a tourist destination.
While many staff members came from Sapporo, I continued to act as a warrior with the utmost care to meet people in person to get to know Tune, but some locals were suspicious of Tune's fashionable appearance. Mr. Miki told me that there were some people who thought that they were a little scared though they were worried about it.Even so, the staff always went to talk to those who were looking inside from the outside and told Tune.
✴ Is it worth doing in rural areas?
Mr. Yamaguchi and Mr. Kasuya all said, "It's definitely there. I answered.
Sapporo is a stimulating city with many stores, and he lived while being stimulated, but when he went out to rural areas, he became an inspiring side.In rural areas, there are few store changes, and people have been living unchanged for a long time in the old community.I'm sure some of them are looking for change.But you can't raise your hand first.There, Tune from the outside raised his hand and a new place was created.
✴ Does not stain
Yukawa has an izakaya that has been in business for over 50 years, and until now, locals have gathered there.The birth of Tune may have been a shock to the locals.However, one year later, it has been transformed into a place that has won the hearts of a wide range of customers and is loved.
As a factor, Mr. Kasuya says, "The staff are sweet potatoes in a good way."The staff members naturally have a harmonious relationship that is neither too close nor too far, and can be dyed in any color.
I felt that there was no, undyed Tune. ✴ I want to expand my favorite circle with my favorite friends in my favorite Hokkaido.
Perhaps it was because I had a favorite companion that I was able to take on the challenge in a strange land.
I felt that because there are people I love, it will become my favorite place to live, and it will expand to my favorite city, my favorite Hokkaido, and my favorite Japan.
Mr. Miki talked on the assumption that the same action could bring about changes in areas that are in the same situation as Yukawa.
There are many areas below cities with a population of 20 or less.Someday, it was an event where dreams spread for those who are thinking of making a town! Guest house!
✴ Future Tune is __?
Tune, who has been familiar with Hakodate and Yunokawa for a year since it opened, says he wants to make it a playground for all generations.And one day he told me that he wanted the locals to do Tune.
At this event, we all looked at one guesthouse called Tune, and it was an inspiring time! I participated in the event because I wanted to run a guesthouse in the future.Until now, I thought it would be impossible in my hometown, but I realized that the possibility was 0, and my dream expanded again.Thank you to all the speakers!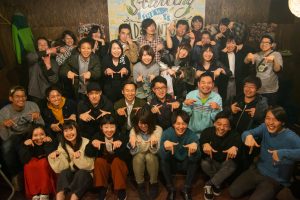 <Sentence: Anna Kuwahara Instagram: @ a_1999_19 Twitter: @ Konsei_1020 Photo: Shuri Miyako Instagram: @shu___cream Twitter; @shu_clear>
This time, I'm Anna Kuwahara, who wrote the event report.Currently in the second year of college, he is active as a student ambassador at Guest House Waya.Born in Abashiri-gun, Hokkaido. I moved to Nagasaki City, Nagasaki Prefecture when I was 2 years old, spent my time in Hachinohe City, Aomori Prefecture until I graduated from high school, and came to Hokkaido a year ago to go on to school!
One day, my dream is to create a place where many people will be excited!
Thank you to everyone who read until the end!