wayaのヘルパーさんの紹介シリーズ
今回はフランスからきたハタチボーイ、アクセルの紹介です。
誰もがシャイボーイだと思っていた彼は、いつもその場にいるみんなを近所の居酒屋さんまでアテンドするほどのパーティボーイということが発覚しました。
日本語勉強中なのでぜひ彼に日本語を教えてあげてください!!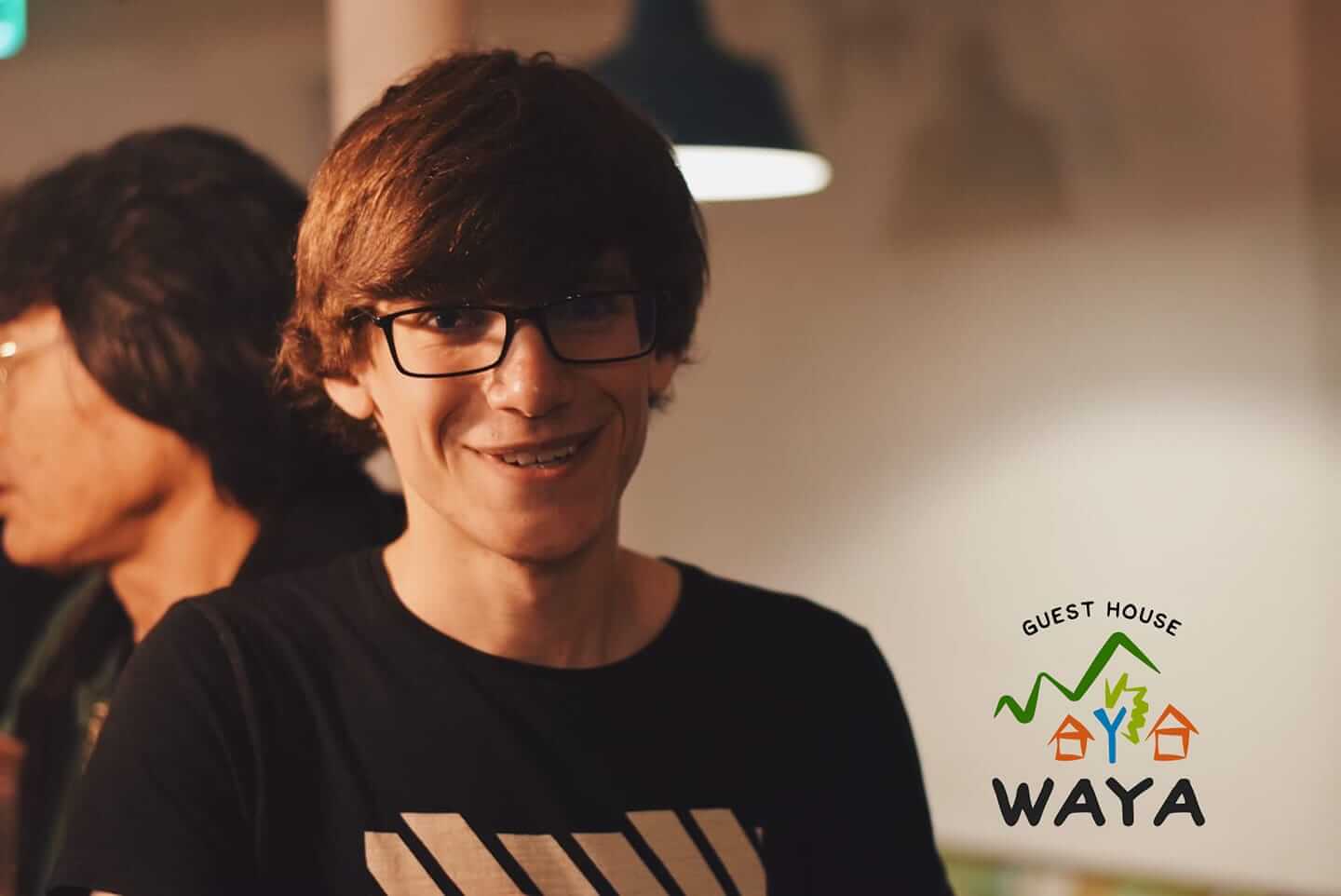 Q, What is your name? (名前はなんですか?)
A, My name is Axel. Je m'appelle Axel! アクセルです。 악셀입니다!


Q, Where are you from?(出身はどこですか?)
A, I am from Tours, France (2 hours south-west of Paris by car).


Q, What brought you to Japan?(なぜ日本に来たのですか?)
A, There are many reasons why I came to Japan. The main one is just to not be in France. There are many reasons why I don't want to be in France. The main one is that 10 months ago, in october, when I was walking alone outside at 22:30 in Paris and someone threatened me and stole my phone, my mom later told me "but what were you doing outside at this time???". I mean if I cannot be outside at 22:30 then this is not the country I want to be in.
About why I chose Japan, well since I was young I always was interested by asian culture in general. I played Super NES (スーパーファミコン), Mega Drive (メガドライブ) and Game Boy Color (ゲームボーイカラー) a lot when I was young. I also played a lot of chess and Go (囲碁). I of course watched a lot of anime too. Then I listened to K-pop all day and watched korean e-sports (if you don't know what it is then google it). I think all of these made me interested in asian cultures. 2 years ago, I went to Asia for the fist time, in Korea, for 1 month. This time I wanted to go to Asia for a longer time, and since I already went to Korea, I chose Japan, because why not!


Q, How many languages do you speak?(何ヶ国語話すことができますか?)
A, I speak french and english, and am currently learning japanese (I also can read korean so it's fun but mostly useless).


Q, What do you do when you have free time?(時間がある時は何をしますか?)
A, Well in depends where I am. When I have free time in France, weither I am studying or working, I mostly stay in my room, behind my computer, playing video games, watching movies/series/anime/drama, or just doing other random computer stuff.
In Japan, my favorite thing to do is just to talk with other people. With Waya or Yuyu staff and helpers, the local Sapporo people, and of course the travelers! I also like to go outside and just walk around or do bicycle.
One of my favorite things to do is mountain hiking (山登り)! I love the fact that in the mountains you can just be in a super quiet place with no other people around, it feels so relaxing!
But, my favorite thing to do is going to パワークック with my friends! If you don't know it (if you are at Waya or Yuyu guesthouse, you seriously should!), it's the best izakaya (居酒屋) in Japan. What are you waiting for to go there and have a good time while drinking メガビール?



Q,What do you want to do when you are in Sapporo?(札幌にいる間にしたいことは何ですか?)
A, Well, the answer to this question is in the last one, I socialize, walk around or do bicycle outside, and occasionally do 山登り!